Simplify your scheduling process.
Our Roster Platform is designed to ease the process of creating and maintaining shifts on a day to day basis. Our Platform provides with you with all the features necessary not only to create, manage and update rosters but also simplifies the process for your staff by notifying them of important updates.
Admin Dashboard
Use our free Admin dashboard to manage all your staff, locations and rosters.
Staff Leave Dashboard
Manage your operations better with improved visibility when your staff are away
Copy Rosters
Copy day rosters or week rosters, scheduling shifts should never be hard again.
Staff Certificates
Manage your staff certificates in one place. Know when your staff certifications are about to expire.
Push Notifications
Never miss an opportunity! Your staff will be notified every time there is an open availability in their location.
Unable to work
Flexible working arrangements made possible. Notify other staff nearby about an open shift availability.
Plan Ahead
With our Smart Roster feature , you can easily create copies of weekly rosters and assign staff to shifts.
Advanced Reporting
Export advanced reports which are highly customisable based on your needs.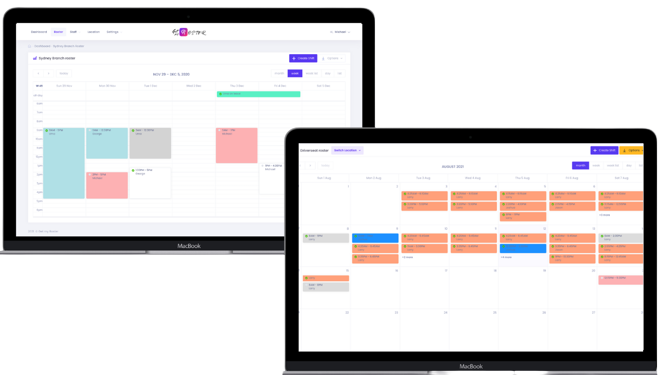 FREE
Mobile App (iOS and Android)
Scheduling and timesheets without the usual chaos. Easy to pick up on any device.
Shift Management
Create new or copy from your existing roster and plan ahead. We remove the burden of you re-entering every piece of information with our automated planner.
Staff Management
No more hassle communicating updated rosters or new rosters to your staff. With our Push notifications your staff will know when and where they are needed when you publish your roster.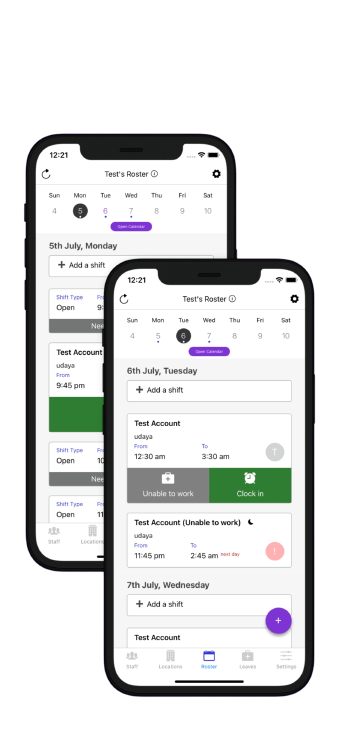 Leave Management
Always be flexible allowing for those times your people can't make it to work. With our Unable to work feature , your staff have the flexibility of letting you know when they cant make it to the shift while automatically creating an Open shift for other staff to jump on.
New Features Coming soon
We are a innovative bunch and always want to give our customers new featues.
Testimonials
---
Join thousands of satisfied customers using our platform globally.
Using the App is super easy to find and read my rostered shifts. Applying for leave and checking my upcoming or past leave also a breeze
I manage 50 staff across 5 locations and "get my roster" has made staffing so much easier... I just send out the roster and if staff are unable to work they just log in in the app and it activates the notifications that are sent out to all the casuals who can then add themselves to the shift..... no more phoning around for hours on end trying to fill shifts .. I also love how the app developer is contactable by email and phone and gets back to you promptly...
I was looking for a Rostering app as we schedule shifts for 80+ people in 5 locations. The staff levels feature is fantastic as it ensures that some shifts are only allocated to the required level or above.
Its never been this easy to manage casual staff at a restaurant. I can easily assign staff to shifts and also I can manage their shift levels so that I dont assign someone who is not skilled to work at a particular shift.
So glad we found this software, it's exactly what we needed to schedule our team of 50 people, in 3 locations. This roster software lets me easily schedule unlimited number of employees and volunteers, at different locations!! This is going to save me a lot of money!
I can easily create and then copy days and weeks of schedules! What a time saver!!
My team is very happy to have a month and list view now. It's printable!
I can schedule shifts per day, in case I don't care what times they work at or for example if a location always is open from 9-5 or open 24/7.
How it works
Sign up now without a need for a credit card and get started straight away. Watch our kickstarter videos for more information or you could email or call us incase you have any queries.